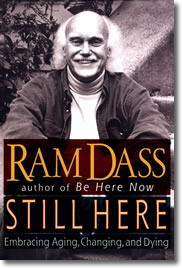 "When the student is ready the teacher appears."
Last week I was hired to write a series of articles on death and dying. Within days the following books appeared in my life.
Light on Life
, BKS Iyenagar (Superb!)
Is There Life After Death
, Elizabeth Kubler Ross (Superb!)
Aging as a Spiritual Practice
by Lewis Richmond
Never say die: The myth and marketing of the new old age
by Susan Jacoby (Superb!)
Questions and answers on Death and Dying
by Elizabeth Kubler Ross
Still Here: Embracing Aging, Changing and Dying
by Ram Dass (Superb!)
Still Here is a personal, long-time favorite. I am re-reading it for the fifth time. I already owned this book, but I hadn't seen it for a while. It disappeared when I boxed up a couple dozen books for a move. Somehow, within days of getting the job, Still Here appeared on my desk... Reading it again reminds me of my long time desire to go to Hawaii and visit Ram Dass's ashram.