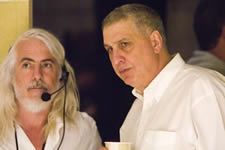 On the commentary track of his recent documentary '
Standard Operating Procedure
,' filmmaker
Errol Morris
talks about how he gets great interviews--interviews no one else is able to get.
He says that there's no 'secret sauce' (to getting great interviews) you just go talk to people. You listen to them, and let them know you are interested in what they say.
Cinematographer Robert Richardson and Errol Morris (right) on the set of Standard Operating Procedure.
There's also a great interview with Morris at
Eye For Film.

(Cross posted at Amazon Connect blog for
Digital Video Secrets
.)